The aim of this group is the stimulation of the development and evaluation of economically and environmental sustainable machinery systems for sugar beet production.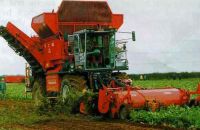 The next meeting of the study group Agricultural Engineering will be held in 2023. The date and time are not fixed yet.
2021 online
2020 online
2019 Berny en Santerre (F) (joint AE and WCTR)
2018 Zollikofen (CH) (joint AE & WCTR)
2017 Crisenoy (F)
2016 Bonn (D)
2015 Lyons-la-Fôret (F)
2014 Bergen op Zoom (NL)
2014 Bergen op Zoom (joint AE & PS)
2013 Aarberg (CH)
2012 Seligenstadt (D)
2011 Bergen op Zoom (NL)
2010 Lelystad (NL) (joint AE & BQS)
2009 Peterborough (UK)
2008 Wunstorf (D)
2006 Seligenstadt (D)
To access further information on the recent group meetings, please login with your user name and password.