The Weed Control study group aims at an elaboration of new, and assessment of existing weed control strategies in the context of the entire rotation. The monitoring of weed flora and the occurrence of resistance and phytotoxicity are of special interest. The aim is to develop environmentally sustainable solutions for weed control. This includes an evaluation of new products, application techniques and control strategies in the entire rotation.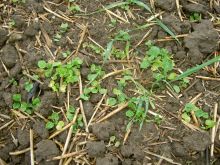 The next meeting of the study group Weed Control will be held in 2024 in The Netherlands. The date will be confirmed.
2023 Santeau (F)
2022 online 27/10/2022
2020 Telco 30/6/2020
2020 Telco 19/5/2020
2020 Telco 14/2/2020
2019 Berny en Santerre (F)
2018 Zollikofen (CH)
2017 Göttingen (D)
2016 Bjärred (S)
2015 Lyons-la-Fôret (F)
2014 Norwich (UK)
2013 Tienen (B)
2012 Göttingen (D)
2011 Villers St Christophe (F)
2010 Paris (F)
2009 Brussels (B)
2008 Holeby (DK)
2007 Bergen op Zoom (NL)
2006 Wroclaw (PL)
2005 Tienen (B)
To access further information on the recent group meetings, please login with your user name and password.